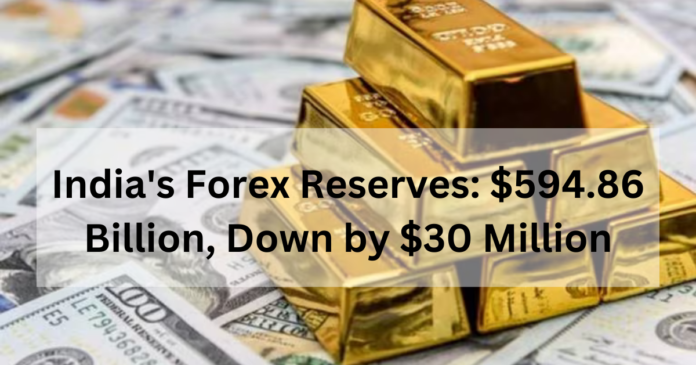 India's Foreign Exchange Reserves  In the week prior to the current report, the total reserves had declined by USD 7.273 billion, reaching USD 594.888 billion.
Mumbai: India's foreign exchange reserves fell by $30 million to $594.858 billion for the week ending August 25, according to the Reserve Bank's announcement on Friday.
Read More at : https://nexusnewsletter.com/category/news/
During the previous reporting week, the total reserves had declined by $7.273 billion to $594.888 billion.
It's worth noting that in October 2021, India's foreign exchange reserves had reached a record high of $645 billion. However, these reserves have been utilized by the central bank to support the rupee in response to the pressures arising primarily from global developments over the past year.
For the week ending on August 25, foreign currency assets, a significant component of the reserves, saw a decline of $538 million, reaching $527.249 billion, as reported in the Weekly Statistical Supplement released by the RBI.
These foreign currency assets are expressed in dollar terms and encompass the impact of the appreciation or depreciation of non-US currencies such as the euro, pound, and yen, which are held within the foreign exchange reserves.
In contrast, the RBI reported an increase in gold reserves by $530 million, bringing the total to $44.354 billion.
On the other hand, the Special Drawing Rights (SDRs) experienced a decrease of $11 million, now totaling $18.194 billion, according to the central bank's statement.
The country's reserve position with the IMF also declined by $12 million to $5.061 billion during the reporting week, as indicated by data from the apex bank.
| Component | Amount (in million USD) |
| --- | --- |
| Total Reserves | 6,01,453 |
| Foreign Currency Assets | 5,33,400 |
| Gold Reserves | 44,680 |
| Special Drawing Rights (SDR) | 18,274 |
| Reserve Position in IMF | 5,099 |